Hej vänner,
På fredag den 6 juni är intern PREMIÄR – föreställningen
WOMEN VOLONTEERS IN FIRST WORLD WAR
Celicne ratnice
(på serbiska – ex YU språk) se programet!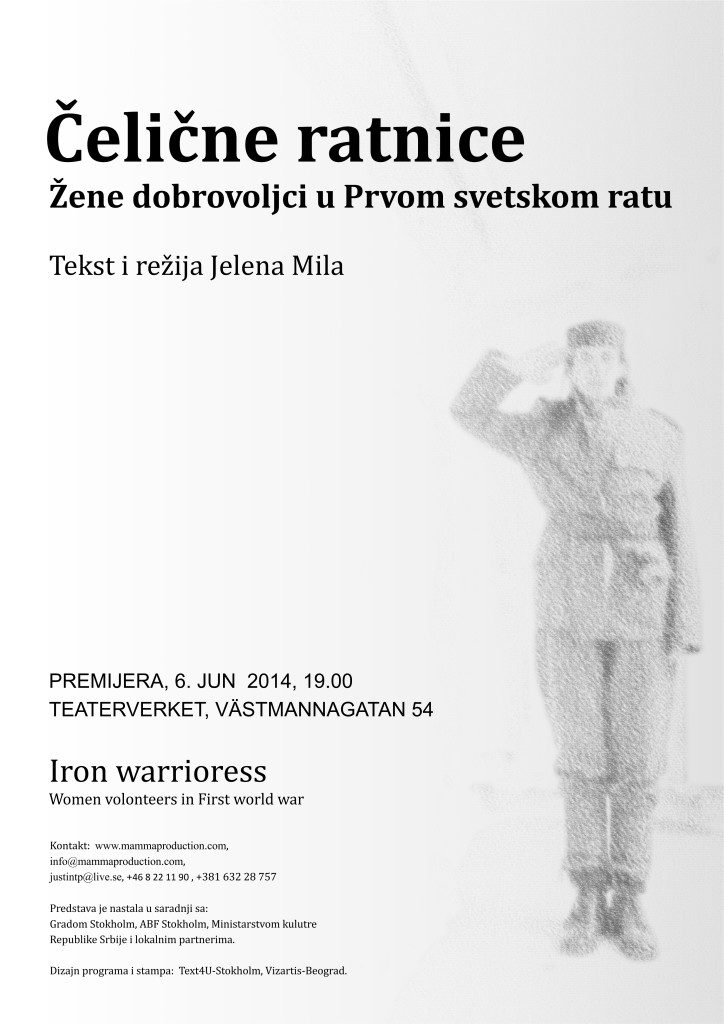 RESERVATION OBLIGATORISKT p.g.a. begränsade antal platser
Välkomna!
ur programet:
Čelične ratnice  – Žene dobrovoljci u Prvom svetskom ratu
Iron warrioress – Women volonteers in First world war
Tekst i režija Jelena Mila
Kostim Vesna Teodosić, Contrast Studios i Justin Theatre Production
Muzika Ivan Alexandar
Fotografije Alex i Ivan
Produkcija M.A.M.M.A. production
Kontakt:  www.mammaproduction.com, info@mammaproduction.com, justintp@live.se, +46 8 221190, +38163228757
Predstava je nastala u saradnji sa:
Gradom Stokholm, ABF Stokholm, Ministarstvom kulutre Republike Srbije i lokalnim partnerima.
Dizajn programa i stampa:  Text4U-Stokholm, Vizartis-Beograd.
Čelicne ratnice je priča o ženama ratnicima i dobrovoljcima na Balkanu, u toku Prvog svetskog rata (1914-1918). Tekst je stvaran na osnovu originalnih zapisa, autentičnih izjava i odlomaka iz  biografija konkretnih ratnica. Pored Prvog svetskog rata, pominju se i ratovi koji su mu prethodili: Prvi i Drugi Balkanski rat (1912-13), Nevesinjska puška 1875, ustanak protiv Osmanlija, ali i ratovi koji su sledili: Drugi svetski rat (1941-45), kao i zadnji sukob na Balkanu (1990 – 99). Prateći živa svedočenja ovih žena i njihove biografije, monodarama otvara sliku besmisla rata i nužnosti očuvanja života i slobode. One su nadljudskim naporom i predanošću podsticale na korektnost i doslednost; služile za primer, poštovanje i postale svedočanstvo nehumanog vremena rata. Kako pre sto godina, tako i danas, one  svojim prisustvom zaceljuju rane i vaskrsavaju stradanja.
Sećanje na ovo vreme je ključ za otvaranje vrata života, dok nas zaborav prisiljava na stalno polaganje računa i surovo ponavljanje lekcija, kako u životu, tako i u istoriji.
Monodrama je pomen neuništivoj snazi armije čeličnih ratnica:
Milunka Savić, narednik, najodlikovanja žena u istoriji ratovanja (1888 – 1973), Srpkinja
Vasilija Vukotić, ordonans (1897 – 1977), Crnogorka
Milica Miljanov, vojnik (oko 1900), Crnogorka
Antonija Javornik, narednik (1983 -1974), Slovenka
Flora Sandes, bolničarka, pešadijski potporučnik (1876 – 1956), Engleskinja
Nadežda Petrović, slikar, bolničarka (1873 – 1915), Srpkinja
Delfa Ivanić, osnivač Kola srpskih sestara (1881-1972), Makedonka
Elsie Inglis, lekar (1868-1917), Engleskinja
Catharina Sturzenegger, publicista, bolničarka (1854 – 1929), Švajcarkinja
Diana Budisavljević, humanitarni radnik (1891-1978), Austrijanka
Zorica Sarah Mitić, lekar(1956 – ), Srpkinja-Jevrejka
Sofija Jovanović, vojnik (1887-1942), Srpkinja
Jeanne Merkus, vojnik (1837-1897), Holanđanka
Mary Geldvin, bolničarka (oko 1900), Amerikanka
Mileva Marić Einsten, naučnik – matematicar/fizicar (1875 – 1948), Srpkinja
Albanke, Grkinje.
(Original zapisi korišćeni iz:
Dobrovoljka Milunka Savić, srpska heroina, 2013 – V.Golubović, P. Pavlović, N. Peđić;
Raspeće Srbije, 2014 – Ratomir Damjanović;
Između dve suze, 2008 – Zorica Sarah Mitic;
Srbija u Velikom ratu 1914-1918, 2013 – M. Radojević i LJ. Dimić;
Knjiga pet prstenova, 1987 – Miyamoto Musashi 1584-1645;
Arhivske fotografije: internet i privatne zbirke)
Svedočanstvo Anrija Barbija o srpskim heroinama iz Prvog svetskog rata:
Ja sam ih gledao na ratištu s puškom i bombom u ruci i u bolnicama, u kojima su na materinske i sestrinske grudi privijale ranjene junake; i u povlačenju kroz neprohodne albanske gudure, gde se na nemoćne i slomljene bolom, u ledja pucalo iz zaseda i u kojima se masovno umiralo od gladi i zime…Gledao ih i divio im se! Ni staha, ni kolebanja, ni suza, ni uzdaha! Nije bilo žrtve koje one ne bi mogle da podnesu za svoju Otadžbinu. To su odvažne kćeri Srbije, majke i sestre junaka sa Cera i Kolubare, mojih ratnih drugova, kojima je Otadžbina bila preča od života i koje su, birajući između poniženja i smrti, izabrale smrt… Nije u to vreme bilo francuskog oficira koji ne bi rado, u znak najdubljeg poštovanja, položio svoj mač pred noge ovih junakinja. One su svojom hrabrošću i svojom patnjom zadivile Svet.
VIDEO SPOT:
Plava grobnica
Firs 'raw release' of video-sound from monodrama Ratnice – Women in war, by Jelena Mila.
Text: Milutin Bojić – Plava grobnica
Music: Ivan Alexandar
Interpretation: Jelena Mila
Archive photo